Employee Burnout Rate Is Spiking: Why Employers Should Take Action Now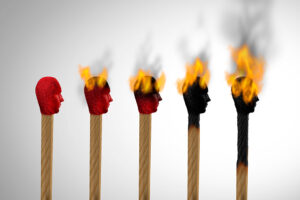 In 2021, a survey of 1000 employees found that 77% of those employees confirmed having experienced burnout at their current jobs.
Ranging from excessive workload to inconsistent shifts in workspaces, burnout rates are real among employees. In 2021, a survey of 1000 employees found that 77% of those employees confirmed having experienced burnout at their current jobs. A further, 91% said that unmanageable stress or frustration impacts the quality of their work, and 83% say burnout can negatively impact personal relationships. This has been compounded because of the COVID-19 pandemic as a high percentage of the global workforce are working between home and office without the structure of typical start and finish times.
Of course, many companies put a lot of incentives in place for their employees, such as flexible working arrangements, additional rostered days off, and company cars. However, these incentives are still not cutting it, serving as a mere cover-up for the laborious work hours. Employee burnout is more institutionally induced than personally. Companies' contributions to the global workers' burnout index are discernibly higher than individual influences.
In his report targeted towards offering helpful recommendations for Human Resource personnel on this matter, Dr John Chan outlines the underlying reasons for burnout. In his words, "Burnout occurs when an organisation's culture or structure creates unmanageable stress for their people." A similar stance is taken by the Australian Human Resources Institute (AHRI). According to The Wellbeing Lab 2019-2021 Workplace Report, the institute agreed that "when we feel physically, mentally and socially well, we are able to bring more energy, focus, and motivation to work and thus are more productive."
Why do many Employers struggle to address workplace burnout?
Employers' mindset
A large percentage of employers were once employees themselves. Because of this, it's only natural that they tend to judge employee life the way they experienced such a phase in their lives. However, times have changed. According to TNS Australia, only 52% of Australian employees believed their workplace was healthy. And one-fifth of workers took time off in 2021 due to stress, depression, anxiety, and other mental health issues.
Many employers were raised under intense work environments that fed into creating a burnout work culture. Being used to this, most employers may do not relate with the outcry of the employees concerning burnout. Even if the former tried, they still would not fully comprehend where the perspectives of contemporary employees. This is the first major challenge to be solved: the mentality problem.
Thus, when employees engage HR on this issue, there might be a level of non-relatability from management.
Red tape
Institutional problems require institutional reforms. And for such to be handled correctly, a lot of bureaucratic assessments and processes are involved. This radically slows things down and can cause the problem to get more complex depending on the structure of the organisation.
An employer who is a global brand has more complex mechanisms in place to oversee employee welfare. And unless there is a consolidated voice from the employees, many complaints regarding burnout might not get resolved as quickly as they should.
Fear of crossfire
Many employers are afraid to be caught with such a predicament of employee burnout. Or even if they decide to address it headlong, some are scared of not eliminating it. Hence, many reside to ignoring it and doing nothing.
How can employers rise to the occasion?
John P. Kotter, is a Professor at Harvard Business School and an authority on organizational leadership and change. Kotter outlines an 8-step model of organisational change, that can be strategically implemented to resolve organisational  problems, such as employee burnout.
Workplace Burnout Action Plan Tips:
Create a sense of urgency
Urgency propels. Both the employees and the management must see that something is wrong with the work culture and should both be keen on getting it resolved. The management should see that the issue of spiking burnout rates among employees is a very urgent one. This urgency should fuel change.
Put together a guiding committee
In simpler words, set up a committee to see to this change. Once the stakeholders have identified the underlying issue of employee burnout, they should set up a committee made up of people with the right skills, qualifications, reputation, and authority to provide leadership to the change efforts.
Developing vision and strategies
There must be a clear picture of what the change is targeted towards. That is, you must have a clear image of what the company would be like with lower burnout rates.
Communicate the change vision
Here, the management should communicate effectively and consistently with the employees on how they plan to go about the change. This would help workers prepare for and accommodate the change in their favour.
Remove barriers to action
The guiding coalition and management should focus on removing barriers that block the organisation's path to achieving the change vision. One of the obstacles could even be resistance to change by employees themselves.
Accomplish short-term wins
The road to change may be long. However, what helps the stakeholders to keep the momentum is the setting and accomplishment of short-term goals. When such short-term wins are celebrated, it helps to keep the eyes on the light at the end of the tunnel.
Build on the change
The guiding coalition should be careful not to announce victory too soon. Rather, they should celebrate each win and evaluate what worked and what needs to be worked on. This helps to build strategically on each little change until there is a fuller transformation throughout the entire system.
Make change stick
Don't plateau. Build systems and structures that would ensure the sustainability of the change. Managers should work to nurture a new culture where this change can become permanent. This includes changing organisational norms and values, processes, reward systems, and other infrastructure elements to make sure that everything aligns with the new direction.
Final Thoughts
Burnout for employees is a reality taking the global workplace by storm. Employers should rise to make use of workable models such as the aforementioned. That way, they can build a better workplace for their workers and themselves moving forward.
If you as an employer have any questions or concerns about potential issues with burnout at your company, get in touch with the Human Resources and Health & Safety experts at WCA Solutions and see how we can help direct change and cultural improvements in your business to help you and your workforce.